"Serving is interwoven into the very fabric of who I am." -Phil Green
I grew up in a home where it was expected that we would serve our community. We were active in church, little league and other community organizations. When my dad decided to run for and eventually win a seat on the Tuscola County Commissioners, I began to see what a true community servant is. In 1995, my dad was sworn in as State Representative of the 84th District, and I enrolled in college.
While at college, I met and eventually married my wife, Marun. She also had serving infused in her blood. Marun's dad retired from the U.S. Navy as a Commander. Her desire to serve led her into the medical field as a Registered Nurse (R.N.). Both Marun and I graduated with our Bachelor Degrees in May of 1999, and we embarked on a life-long passion of both of ours, serving our Community.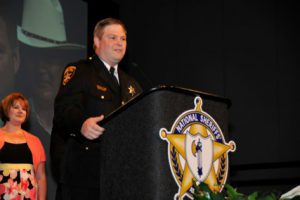 We moved to Oshkosh, WI where I became the Youth Pastor at a local church. Marun began working as a nurse at Theda Clarke Hospital in Neenah, WI. In 2003, we moved to Upstate New York. I began serving in our community of Pavilion, NY as the Pastor of First Baptist Church, coach at Pavilion Central School District and chaplain at the Genesee County Sheriff's Office working with the deputies, administration, dispatchers and corrections officers. In 2011, Sheriff Gary Maha of the Genesee County Sheriff's Office (Batavia, NY) nominated me for the National Sheriff's Association Chaplain of the Year, an award that I will always cherish.
In 2012, when many people were moving out of Michigan, my family and I moved in. I was hired to be the School Administrator of Juniata Christian School in Vassar. Since 2012, our enrollment and our faculty has grown. Following five years of successful school administration, Juniata Baptist Church invited me to move onto church Pastoral Staff as the Assistant Pastor. At Juniata, I have successfully organized "Wild Game Dinners," developed a youth basketball league, Upward Basketball, and served the people in our community.
I am looking forward to serving the people of the 67th District because serving is interwoven into the very fabric of who I am.